Straight Out Of a Sci-Fi Novel
For many photographers, editing images is the least favourite aspect of photography. For them, goal is to spend more time with the camera and less time behind the computer. For many others, editing is where their creativity comes to life, but they still wish the software could automate more of the mundane tasks, leaving them to focus on the creative. This is where Artificial Intelligence comes in!
Lately it seems like the biggest buzz words in photography are Artificial Intelligence, Machine Learning and Deep Learning. So, what is all this fuss about? What is AI? How will it assist us in being better photographers? A great place to start in answering these questions is with a few definitions – the technical stuff. 
The Technical Stuff
Artificial Intelligence  (AI) is the ability of a machine to perform tasks usually associated with intelligent beings. Its when machines can do tasks that usually require human intelligence. 
Machine Learning  (ML) – Is the ability of a computer to learn without actually being programmed. Instead it uses an algorithm that has the ability to learn from the data that you provide it. It then uses what it has learned to make informed decisions. However, an engineer is still required to tweak things an incorrect decision is made.  
Deep Learning (DL) – Takes it a step further and uses an artificial neural network which is based on the structure of the human brain. The artificial neural network can learn and then actually formulate decisions on its own. 
So, when it comes to photo editing software, the AI  has been 'fed' millions perhaps even billions of photos in order to learn how to evaluate and classify photos. Not only can the AI determine the type of photo, such as landscape, portrait, nightscape, architecture…etc, it can also identify the type of adjustments that should be made to the image, right down to the pixel level. 
Post Processing Software and AI – Making life so much easier!
With the technical stuff out of the way, lets have a look how this sci-fi technology can assist us with photo editing. 
All the major photo editing software companies are boasting the use of AI to make photo editing simpler. Leading the way is the recent launch of Luminar AI from Skylum, that has "Artificial Intelligence at its core". It's advertised as the world's first photo editing software entirely powered by artificial intelligence.
Luminar AI
Luminar AI offers a simplified approach to image editing, while still allowing full control for photographers that want a more hands on approach. The goal of Luminar AI is to "make the editing process fun and easy". It allows users to develop their creative skills while being assisted many AI based features.  If you're not sure where to start, Luminar offers a range of adjustment Templates based on categories identified by the AI.  Add a new sky, change the weather, smooth skin blemishes, or automatically fix the composition, all with the help of Luminar's artificial intelligence.  Skylum has focused on removing all the tedious and complex parts of photo editing, without interfering with your creativity – you as the artist will still be in complete control of the outcome.
Adobe Photoshop
Adobe has also gotten in on the action by making AI the centrepiece of its latest release of Photoshop. Photoshop already employs AI in many editing tools such as the Select Subject, Object Selection Tool and Content-Aware Fill.  The latest release made it more interesting with 5 very cool AI additions: Neural Filters, Sky Replacement, the new Discover panel, and two new Refine Edge Selections. Neural Filters allow you to automate traditionally complex editing tasks such as skin smoothing, and even manipulating the facial expressions of people in your images. There are many more neural filters on the horizon.
The new Sky Replacement feature automatically selects the sky and offers a range of sky images to add beautiful, dynamic skies in just a few clicks. The Discover panel is loaded with tools and tips to help you work faster. It uses AI to deliver recommendations based on you and your work and includes one-click actions to make the magic happen. Adobe are promising many more AI based features to simplify the photo editing process. 
Of course there is also the Super Resolution feature that was also added to Camera Raw that allows you to increase the number of pixels in your image by 4x. I explored Super Resolution in my previous post – Super Resolution
Topaz Sharpen and Topaz DeNoise
Its also worth mentioning Sharpen AI from Topaz Labs, which improves image sharpness by correcting different types of image blur. It uses deep learning algorithms trained by millions of images, enabling it to detect blurred areas in the image and then create new pixels to reconstruct the image, improving the sharpness. Topaz Also offers DeNoise AI, which is amazing at reducing noise in your images caused by using high ISOs, without over-softening the actual subject of the image.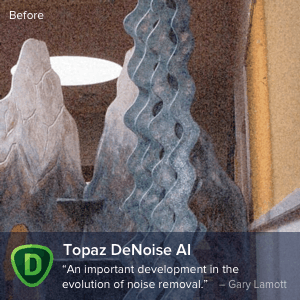 Artificial Intelligence  – Friend or Foe
Of course, such evolutions in post processing technology haven't been met with excitement by everyone in the industry. There are those that feel it detracts from the creativity and the artistry of post processing and will most likely have a detrimental effect on professional photography. But what about us non-professionals, is the use of AI cheating? Like with all editing that goes beyond the basic photographic edits, it really becomes more digital art than photography. If your goal is to create beautiful art, then there is absolutely nothing wrong with how you choose to manipulate your photos. If your photos are to be used to document an event or how a location looked at the time the photo was taken, then you should probably stick to basic photographic edits. 
For most of us, it means we will be able to edit photos quicker, more efficiently with less mundane repetitive workflows that doesn't require a detailed knowledge of editing software or computers. There is certainly nothing wrong with that! 
Artificial Intelligence isn't just showing up in post processing software
It seems the focus of the photography industry is more about algorithms and less about the hardware at the moment. Many of the industry's leading cameras companies are highlighting the power of the AI processing built into their cameras. AI and Deep Learning are being used to improve features in high end DSLR cameras such as the auto focus of moving subjects.  More R&D budgets are being spent on the development of AI than is being spent of the development of camera sensors and lenses. This is being driven by the smartphone camera market, where the quality of the in-built camera advances in leaps and bounds with each new phone release.  
A  number of companies are already working on deep learning processes that can automatically enhance photos taken on lower quality camera sensors and make them look like they were taken by a professional photographer on a high end DSLR. Couple that with the AI processing power in today's editing software and we have the latest evolution in the art of photography. 
Ironically, I watched the most recent Terminator movie a couple of nights ago – a story about artificial intelligence using a deep learning, artificial neural network called Skynet to conquer the human race! Anyway, that's all for now..stay tuned – I'll be back! 
Check out our recent review of Luminar AI Post Processing Software. Download a FREE 7-Day Trial of Luminar AI.
The Complete Pixel is a proud affiliate partner of Skylum and Topaz Labs.